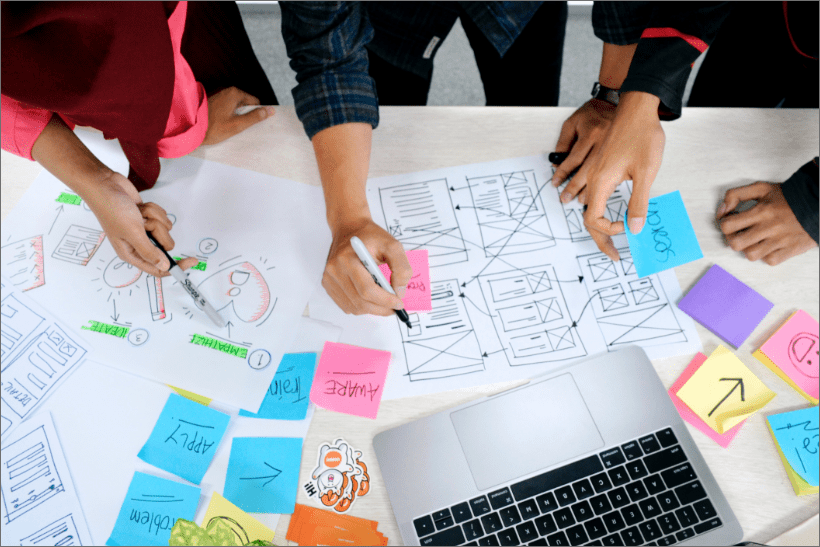 User experience (UX) defines s customer satisfaction by measuring the usability of the product, 
accessibility as well as the efficiency of user interaction with your designed interface.  Leading 
software
development companies 
are utilized by the companies to promote their products or services to a large
clientele. Companies are creating unique web designs so that the potential online user does not miss the
web page of the company. This increases the likely possibility of converting an online customer into
successful lead generation, which eventually adds value to online business sale. Further, user experience
and conversion rate are closely knit in an online company.
Let's have a look at the key tips to improve your website user experience (UX), which contributes
towards a higher conversion rate.
1.

Designing a Clear As Well As Attractive Home Page
The first and the foremost step towards improving your
 website user interface (UX) is to
 designing a clear
as well as an attractive home page. This unique web page design helps in attracting and retaining
potential customers. This increases user engagement, which portrays a positive effect on the return on
investment in the company. Besides this, it also helps the potential customer in reaching 
to 
the
designated pages. The clear path of the website positively impacts on
 the user experience that 
ad
ds
value to online business revenue stream
2.

Make Sure Your Pages Load Quickly
The second important factor in improving your website user interface is that your web pages load
quickly. According to the Smart Insight report 2017, if the web page does not load in the initial 3
seconds, almost 60% of the organic traffic declines from the designated page. Therefore, companies
which are promoting their products or services via multiple digital mediums need to make sure that their
web pages load quickly to avoid declining organic trend online.
3.

Use Persuasive Call-to-Action Messages
It is important to use persuasive call-to- action messages if you want to increase your conversions from
the organic traffic. Therefore, 
companies 
tend 
to optimize their content, and use persuasive
call-to-action messages to
 lure customer attraction. This not only adds
 value to the online business
stream
 but also equally helpful in generating recurring organic traffic
. 
Hence, i
t is advisable to use
relevant and updated content to keep your customers intact as well as ranks higher in SERPs. Further, the
higher rank in the SERPs ensures your credibility online and also improves your website user interface
Yet another method of improving the user experience is to improve your online readability status. Even if
the designed web, as well as a mobi
le page, is full of attraction; 
however, 
if it 
lacks readability it is of no
use. It 
will turn away 
the potential customer as they are unable to comprehend what the targeted
website is offering to them. Therefore, to ensure effectiveness
,
 enhancing readability is of significant
It is highly advisable for the companies to fix the broken links, e.g. Error 404, which means the link you
are following is probably removed or broken. These kinds of errors are the major obstacle in the way of
improving the user experience. Therefore, it is highly advisable to make your website smooth, simple
and error-free for the greater value.
Last but not the least; keep your web design simple. Simplicity has its own charm. It not only attracts a
large base of customers but also improves the user interface of the website. Besides this, it also sets you
apart from your competitors.
The bottom line is 
if you want to 
improve your website's user interface, it is imperative to keep
 it simple
and elegant
.
This approach 
help the companies in improving the user
 interface (UX), which 
adds value to
online business sale. Besides this, it also helps in increasi
ng the customer base that facilitate the
organization in 
targeting the right clientele for their designated products. 
Agile District being the leading
custom software 
development 
and solution provider 
software house, 
help its clients in building a sleek
yet engaging UX of your business